This week I have been taking some time to reflect on the use of infographics as a tool, not only in the classroom – but also in marketing. This time of year is a huge push at our school for enrollment. As a small, alternative K-8 school, enrollment is a huge priority for us. How do we make ourselves stand out in a crowd of other schools? I know what to say when a prospective family comes to visit – I have those keywords down. But how do I turn this elevator speech into marketing material that can be handed out to these parents? What are those keywords or images that sum us up as an amazing school?
So instead of finding an infographic for my classroom, I have challenged myself to use a variety of google suite tools to create an infographic that tells our story, doesn't make the "bad infographic" list and makes us stand out from the crowd! Once I have created this – I know it will be an excellent tool for us to use in a number of different ways.
As I searched through the hundreds of infographics online that show innovative education, I realized that you do need to find the balance between color, contrast, words, flow, and information. Images or short bullet points are great – because our brains process it much quicker than words strung together.
I checked out 13 incredible tools for creating infographics, which contains a wealth of information on different sites to use. What's nice about this article is that they have selected their top tools and apps for making infographics. They list both free and paid options and some that are even suitable for non-designers because the templates and other features make them so easy to use. After playing around on some of these websites I decided to use Canva and Google slides to create my infographics.
Because these will be posted on social media and used as marketing material for our school, I ended up designing and creating them and then working closely with our graphic designer to "brand" them in our Phoenix School style. Here is my first attempt using Canva.
At first, I was really excited – but after looking at it multiple times I realize it's pretty bland. It tells a story, with those keywords, but I am not sure it is a "grabbing" as I would want it to be. To me, it doesn't really tell our story the way I wanted my infographic to. I am not sure it sets us apart, the way that I really see ourselves being set apart. So I set out to redesign! I did, however, find that Canva was super easy to use, it has loads of options, so much that it was almost overwhelming to choose which one to use! I could change colors, adapt shapes, change the layout and play with the structure really easily, which was wonderful.
So my second attempt was using Google Slides. I found this almost easier to use as there is no template – so I just found something to inspire me and away I went. I was really inspired by Sonya Terborg's website and her resume. So much that we are going to challenge our students to create their own "story" or "resume" about themselves using Google suite tools. She really captures your eyes with shapes, symbols, short sentences, and keywords. She sums herself up well, including her accomplishments, her philosophy, and passions. She presents it in a visually pleasing way that makes you want to read more. I know if I came across this in a stack of resumes, I would TOTALLY want to hire her just based on her creativity and obvious technology skills alone! My favorite part of her resume is the circle with the WHY, WHAT, HOW! It's just so meaningful.
I found a TedTalk video on this – explaining just how clever marketing targets these three things, and how most companies have it backward!
So here is my design number two using Google Slides.
I like this one a lot better. It allows us to use many more words that describe our school, including our Why, How and What, which is really important in differentiating us from other schools. It's basic and simplistic, but effective. I do wonder if there is not enough graphics – but at this moment I am not sure where to incorporate pictures.
Overall I found that Google slides were easier to use – and less overwhelming. There were no templates so I just took inspiration from other infographics and combined these ideas into my own design. It also enabled me to set the size of my infographic. I do believe what I created is not the "traditional" size of an infographic – so maybe it can not even be called one, but I was working with a size that I wanted!
I do think using infographics in the classroom is a wonderful idea and even challenging students to create their own. When thinking of using them with students I found this video and website helpful to explain to students the different types of infographics and how they would put their plan together.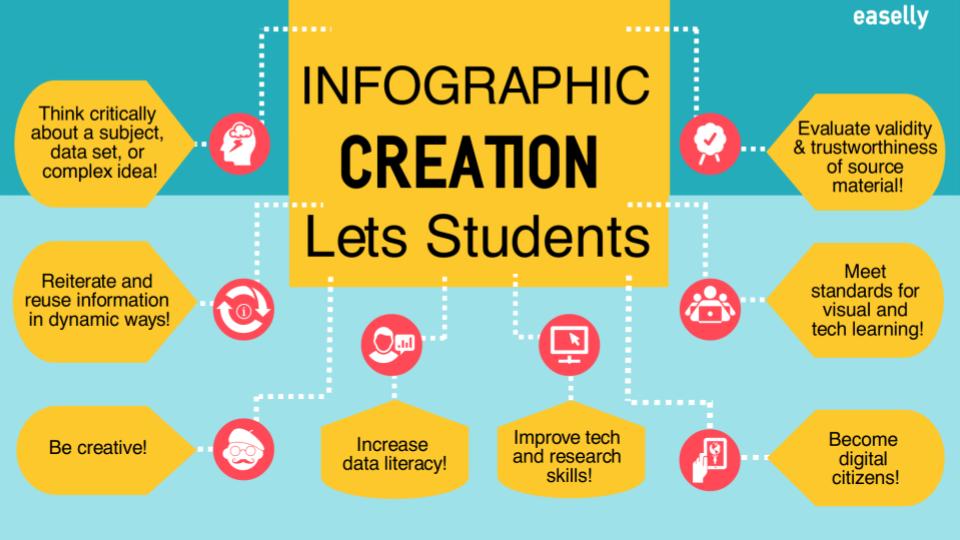 And this image, from How to Make Infographics With Students: Recap & Replay, really sums up the value the students can get out of creating their own infographic.
From here I am going to continue to work on my infographics and hopefully be posting them socially very soon, once they are approved by our board! I would love to hear your feedback on my infographics – the good and the bad, please! I would also be interested to hear if you have made infographics with your students before. What are some of the challenges and successes you have had? Do you have a favorite tool that you use with your students?